Alfa Romeo 4C Coupe US
Родстер Alfa Romeo 4C анонсировал уход из США
Объём продаж модели Alfa Romeo 4C в США сокращается с каждым годом, но итальянцы продолжают удерживать машину на рынке. За три квартала 2020-го там они реализовали всего 21 родстер. Для сравнения, модели Porsche 718 разошлись за тот же период тиражом 1084 штуки.
Экстравагантный спорткар Alfa Romeo 4C существует в серийном статусе уже семь лет. Машина до сих пор выглядит неплохо, но людей не будоражит — по результатам продаж «итальянка» проигрывает немецким конкурентам в Штатах чуть ли не всухую. Однако в следующем году туда отправят особую версию спайдера — то ли чтобы напоследок немного компенсировать разрыв, то ли чтобы просто красиво уйти. Потом родстер покинет континент вслед за купе. Модификации дали название 4С Spider 33 Stradale Tributo в честь одной из самых знаменитых моделей марки и наградили особым оформлением.
С 1967-го по 1969 год было собрано 18 купе Alfa Romeo 33 Stradale. За креслами — мотор V8 2.0 (234 л.с.) в паре с шестиступенчатой «механикой». Наследник под стать окрашен в эксклюзивный оттенок Rosso Villa d'Este. Оформление колёс так же должно напомнить о славном прошлом.
Главное, что бросается в глаза, — обилие углепластиковых элементов. Из композита сделаны основания фар, воздухозаборники, корпуса зеркал, рамка лобового стекла и перекладина позади кресел. Спереди используются колёса диаметром 18 дюймов, задняя ось укомплектована 19-дюймовыми. Вместе с машиной владелец получит книгу от отделения Centro Stile. В издании можно будет изучить историю купе 33 Stradale, процесс разработки и сборки модели 4С, а также эволюции дизайна и технологий, используемых на производстве в Модене.
Автомобиль получил кресла с углепластиковым основанием, обивкой из табачной кожи и замши Dinamica. Нарочно оголённый композитный монокок покрыт красным прозрачным лаком. Таблички, намекающие на особую породу родстера, — само собой разумеющееся.
Из механических изменений анонсирована спортивная подвеска и двухрежимная выпускная система Akrapovic, которые обычно доступны на машине как опция. Однако турбочетвёрка 1.75 выдаёт всё те же 240 л.с. и 350 Н•м. Тяга на заднюю ось идёт через шестиступенчатый «робот» с двумя сцеплениями. Отметки в 97 км/ч автомобиль достигает через 4,1 с после старта, а его предельная скорость — 257 км/ч. Тираж составит 33 экземпляра, хотя в рамках объёма продаж за последний год это не выглядит невероятным эксклюзивом. Цена — от $79 995 (5,87 млн рублей). Обычная двухдверка в США доступна от $67 150 (4,93 млн рублей).
Alfa Romeo 4C
The highest expression of Alfa Romeo emotions
The weight of lightness
OVERVIEW
Pictures of legendary sports cars, glorious and victorious. The roar of their engines. The voices of the crowd along the track. Genuine enthusiasm and passion. The 4C project is born from the purest Alfa Romeo spirit. A project that wants to show enthusiasts a supercar dream. A unique car, both in design and technology, created to excite the driver, both on the tracks and on the streets. Now, every passionate driver's dream can finally be achieved.
STYLE
A DREAM COME TRUE
The 4C design nods at history and makes reference to the unmistakable style of the 33 Stradale: essential beauty at the service of extreme mechanics. Built in Modena, Alfa Romeo 4C combines two excellences: Alfa Romeo engineering and Maserati manufacturing, in one. Performance has never been so attractive.
EXTERIORS
The essence of the Alfa Romeo 4C is simple: pure performance. Appearance is gauged to performance and not an end in itself. Each feature of 4C's breathtaking looks – such as its slim volumes, muscular design and air intakes – has a specific aerodynamic function and contributes to creating a downforce to increase stability at top speed.
INTERIORS
As with the exterior, everything on the inside has a precise function and expresses the racing spirit of Alfa Romeo. To start with, the unique body cell is made from a one-piece shell of carbon fiber. The seats incorporate a reinforced composite structure and special lightweight padding. The steering wheel is molded at the bottom and the controls are all oriented towards the driver. Aluminum pedals and heel guards form the last details of a true sporting character.
UNIQUENESS
THE MOST EXCLUSIVE DETAILS
Every detail of 4C is conceived to ignite passion for sportiness. The alloy wheels go from 17″ to 19″, mounted in different sizes on the front and on the rear, to ensure a perfect balance and the best dynamics.
Brembo brake calipers with 4 small pistons are available in 4 colors: grey, black, yellow and, of course, red. The spoiler in body-color or in carbon fiber (available as optional), the Bi-LED headlights with carbon fiber surrounds, the air intakes on the side, the twin tailpipes, the sporty seats in a single carbon fiber shell, all go together to make the 4C an impressive Alfa Romeo masterpiece.
STYLE
EXTERIORS
INTERIORS
UNIQUENESS
TECHNOLOGY
Reactivity is paramount in cars designed to astonish. The new TCT twin dry clutch with launch control optimizes gear changing and acceleration, while fun on the race track is guaranteed by simply flicking the intuitive D.N.A. selector to Race mode.
The Alfa TCT dry twin-clutch transmission ensures the fastest possible gear shifts under all conditions and features an innovative Launch Control function to optimize vehicle systems and exploit all available acceleration.
ALFA D.N.A.
SELECT THE NEXT BEST THRILL
Alfa Romeo 4C is designed around the driver. The Alfa D.N.A. selector has three settings (Dynamic, Natural and All Weather) for adapting the car to the road conditions and the current driving style. What's more, the exclusive Race mode is designed to further enhance the driving experience on the race track. Selecting the Dynamic position will cut out the stability control system and the ABS, handing full control of the car over to the driver. The full digital instrument panel with TFT display changes configuration to provide the information most pertinent to the specific Alfa D.N.A. setting.
PERFORMANCE
ENGINEERED FOR UNPARALLELED SENSATIONS
The 4C's 1750 cc turbocharged power plant is based on Alfa Romeo's state-of-the-art engine technology, empowered and improved to be even more aggressive and efficient.
This small yet amazing engine solution delivers unprecedented sporting performance, worthy of a supercar, while everything is engineered to deliver the purest Alfa Romeo emotion at the wheel: just drive it to believe it.
ENGINE
SMALL DISPLACEMENT, GREAT PERFORMANCE
The four-cylinder, direct injection, 240hp, 1750 Turbo Petrol engine, made entirely of aluminum, brings extraordinary performance with a peak torque of 350 Nm, 80% of which is available at 1700 rpm. 4C has a top speed in excess of 250 km/h and accelerates from 0 to 100 km/h in 4.5 seconds.
SCAVENGING
4C's advanced scavenging technology maximizes torque at low engine speeds and delivers more power in response to driver input.
To implement the scavenging technology, the engine is also equipped with a new generation turbocharger and a pulse converter exhaust manifold.
AFTER RUN PUMP
A GENUINE SUPERCAR FEATURE
Like all top competition cars, 4C uses an automatic cool-down system to protect its turbocharger. Switching off the engine would normally cause the immediate stoppage of oil circulation, resulting in loss of lubrication capacity and possible damage to the engine. With the after-run-pump, the oil keeps circulating through the turbocharger until it has cooled.
PERFORMANCE
ENGINE
SCAVENGING
AFTER RUN PUMP
DYNAMISM
IDEAL BALANCE, PERFECT PERFORMANCE
With its mid-engine configuration and extremely sophisticated suspension layout (superimposed wishbone up front, evolved McPherson on the rear), 4C is perfectly balanced and masters the road at any speed. The powerful braking system, with self-ventilating perforated discs and Brembo calipers on the front wheels, allows the 4C to stop from 100 km/h to 0 in just 36 meters. 4C also fits different diameter tyres on the front and rear, to ensure perfect grip on all types of roads and in any weather.
MATERIALS
THE WEIGHT OF LIGHTNESS
Carbon fiber is the most high-tech material in automotive engineering. The chassis of 4C is a single carbon fiber body, weighing only 73 kilograms. The crankcase, the front and rear frames are all made of aluminum, combining solidity and extreme lightness. The outer body is made of SMC composite, a low-density material that combines lightness (20% lighter than steel) and dimensional stability comparable to steel and superior to aluminum.
EFFICIENCY
The total dry weight of 4C is only 934 kilograms, allowing it to reach one of the lowest power-to-weight ratios ever: less than 4 kg/hp. This means superior efficiency, while improving agility and responsiveness for an unbeatable driving experience.
Спецверсия Alfa Romeo 4C ознаменовала прощание со спорткарами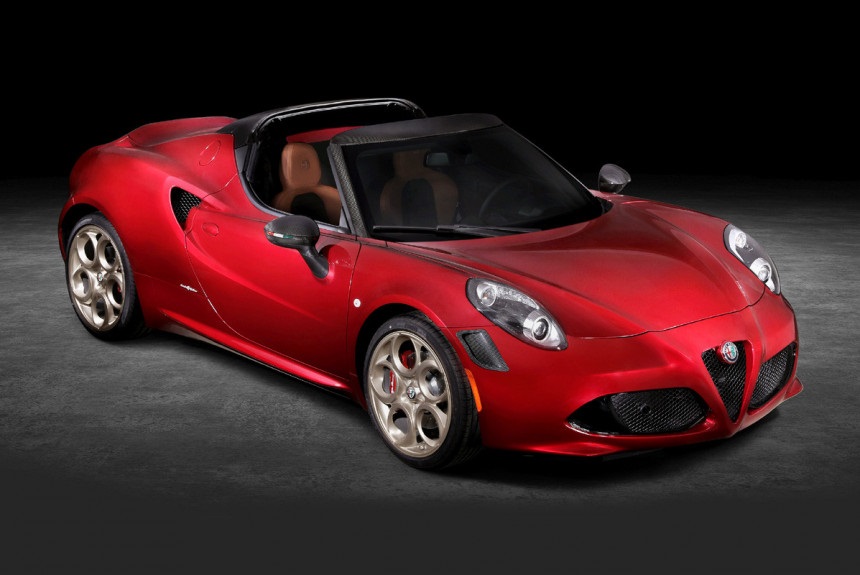 Конвейерная жизнь среднемоторной модели Alfa Romeo 4C подошла к концу, и компания выпускает прощальные версии своего спорткара. Еще весной почти незаметно для всего мира была представлена Alfa Romeo 4C Final Edition для Японии. А теперь в США дебютировала местная спецверсия под названием 33 Stradale Tributo, которая доступна только в варианте с открытым кузовом Spider. Формально она посвящена исторической модели Alfa Romeo 33 Stradale образца 1967 года, но фактически это последняя партия «кватро-че» для американского рынка.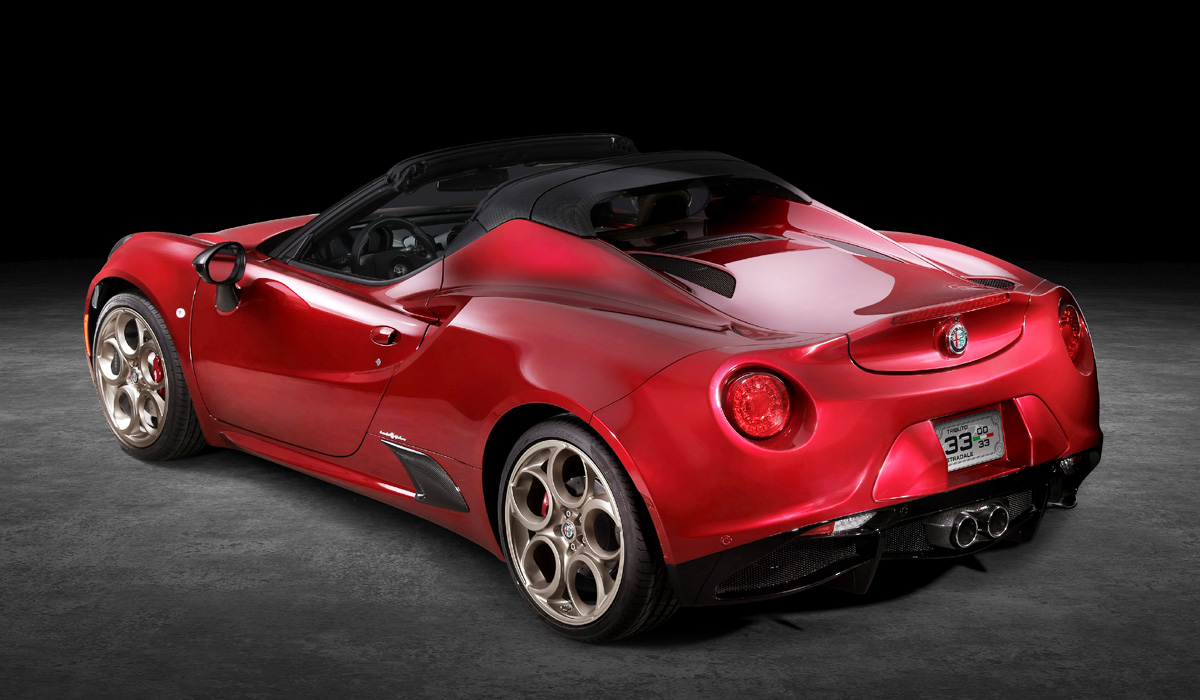 От стандартной двухдверки версия Alfa Romeo 4C Spider 33 Stradale Tributo отличается цветом кузова Rosso Villa d'Este, золотистой окраской колес, комбинированной обивкой сидений и памятными табличками в салоне. Штатное оснащение включает выпускную систему Akrapovic, подвеску со спортивной настройкой, биксеноновые фары и декор в виде флагов Италии на кузове: у стандартных машин за все это нужно было доплачивать.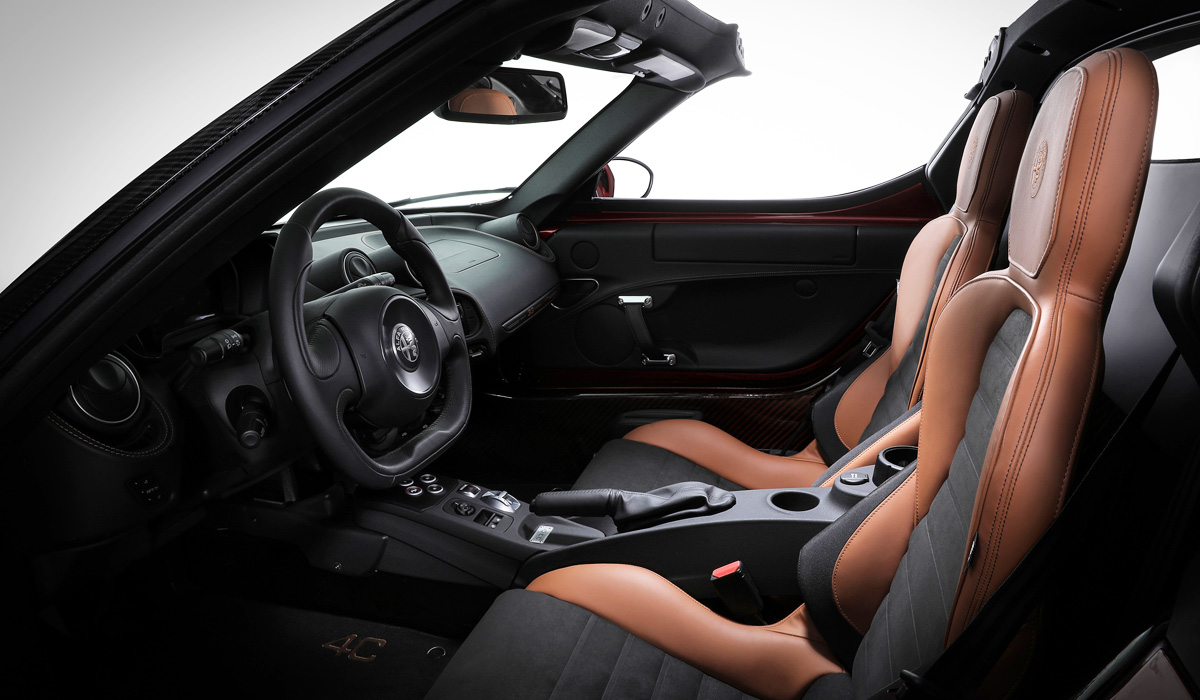 Кроме того, в комплекте с машиной покупателям положена книга, посвященная моделям 4C и 33 Stradale. Для рынка США выпущено 33 спорткара Alfa Romeo 4C Spider 33 Stradale Tributo. В компании особо подчеркивают, что машины собирали вручную, цена каждой — 80 тысяч долларов.
Интересно, что с 2013 года, когда дебютировало базовое купе Alfa Romeo 4C, модель не претерпела каких-либо изменений. Традиционного рестайлинга не было, расширения оснащения тоже. Даже четырехцилиндровый турбомотор 1.7 мощностью 240 л.с. и шестиступенчатый «робот» с двумя сцеплениями остались нетронутыми. Разгон до 100 км/ч занимает 4,5 с.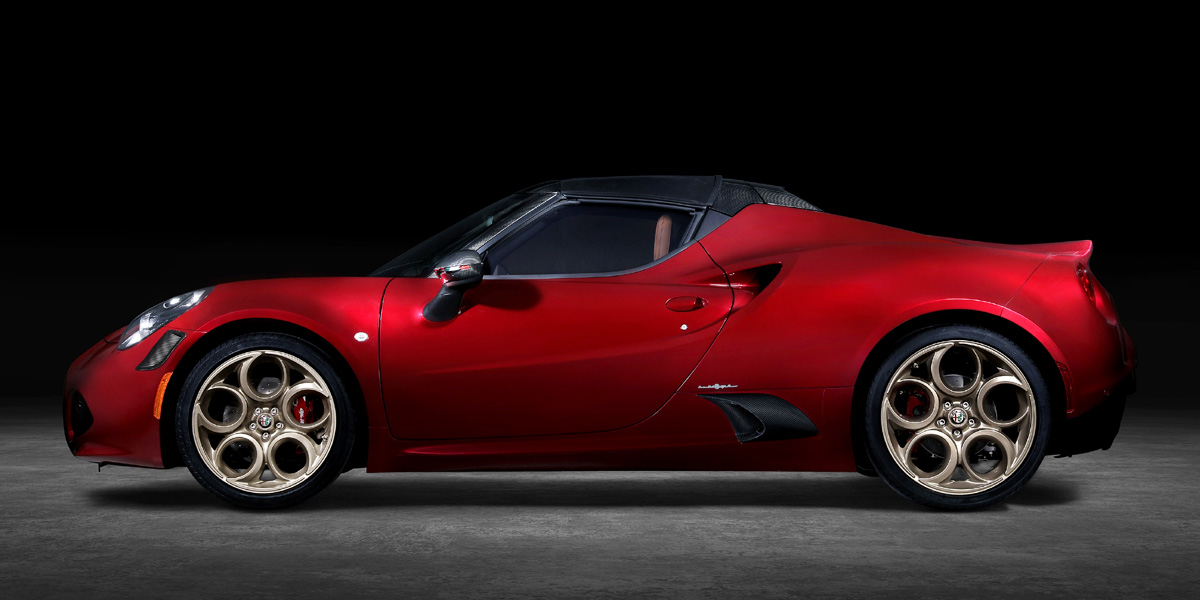 Увы, после прекращения производства модели 4C в гамме компании Alfa Romeo не останется спорткаров. Новые модели GTV и 8C, обещанные еще в 2018 году, отложены на неопределенный срок. Приоритетная задача сейчас — начало производства компактного кроссовера Alfa Romeo Tonale на переднеприводной платформе, который станет первым гибридом марки. Серийная версия будет представлена в 2021 году.
Новости и тест-драйвы › Родстер Alfa Romeo 4C анонсировал уход из США
Экстравагантный спорткар Alfa Romeo 4C существует в серийном статусе уже семь лет. Машина до сих пор выглядит неплохо, но людей не будоражит — по результатам продаж «итальянка» проигрывает немецким конкурентам в Штатах чуть ли не всухую. Однако в следующем году туда отправят особую версию спайдера — то ли чтобы напоследок немного компенсировать разрыв, то ли чтобы просто красиво уйти. Потом родстер покинет континент вслед за купе. Модификации дали название 4С Spider 33 Stradale Tributo в честь одной из самых знаменитых моделей марки и наградили особым оформлением.
Главное, что бросается в глаза, — обилие углепластиковых элементов. Из композита сделаны основания фар, воздухозаборники, корпуса зеркал, рамка лобового стекла и перекладина позади кресел. Спереди используются колёса диаметром 18 дюймов, задняя ось укомплектована 19-дюймовыми. Вместе с машиной владелец получит книгу от отделения Centro Stile. В издании можно будет изучить историю купе 33 Stradale, процесс разработки и сборки модели 4С, а также эволюции дизайна и технологий, используемых на производстве в Модене.
Из механических изменений анонсирована спортивная подвеска и двухрежимная выпускная система Akrapovic, которые обычно доступны на машине как опция. Однако турбочетвёрка 1.75 выдаёт всё те же 240 л.с. и 350 Н•м. Тяга на заднюю ось идёт через шестиступенчатый «робот» с двумя сцеплениями. Отметки в 97 км/ч автомобиль достигает через 4,1 с после старта, а его предельная скорость — 257 км/ч. Тираж составит 33 экземпляра, хотя в рамках объёма продаж за последний год это не выглядит невероятным эксклюзивом. Цена — от $79 995 (5,87 млн рублей). Обычная двухдверка в США доступна от $67 150 (4,93 млн рублей).
Илья Кузьмин, позавчера в 17:11. Фото: Alfa Romeo
Alfa Romeo 4C 2013, купе, 1 поколение (01.2013 — 07.2016) — технические характеристики и комплектации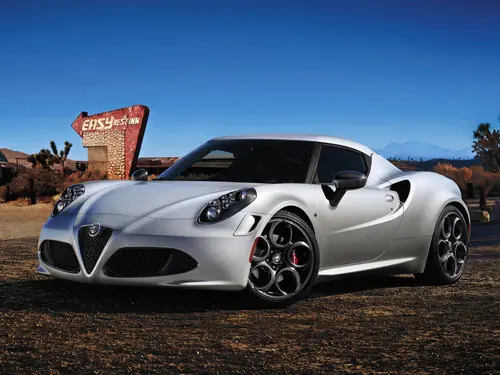 Интерьер Alfa Romeo 4C полностью соответствует духу автоспорта. В салоне нет ничего лишнего — все продумано до мелочей. Легкие и прочные гоночные сиденья с усиленным композитным каркасом обеспечивают спортивную посадку и обладают отличной боковой поддержкой, в отделке использованы специальная ткань и кожа. Рулевое колесо обшито кожей и имеет скошенный нижний сегмент. Легкая и почти «воздушная» передняя панель сделана из специального пластика, при этом центральная консоль полностью ориентирована на водителя. Не обошлось, разумеется, без спортивных педалей и площадки для ноги, выполненных из алюминиевого сплава. Графика дисплея с высоким разрешением, расположенного в щитке приборов, предельно доходчива и визуально эффективна, как положено гоночной модели. В состав оборудования включены: электропакет, центральный замок с ДУ, кондиционер, полноцветный ЖК-монитор, система Hands free, аудиосистема Alfa Hi-Fi (опция).
Как уже сказано, Alfa Romeo 4C использует доработанный двигатель от самой «горячей» версии хэтчбека Giulietta Quadrifoglio Verde. Изменения включают замену чугунного блока цилиндров на алюминиевый, доработку систем впуска и выпуска. Данный двигатель оснащен непосредственным впрыском, системами регулировки фазами газораспределения на впуске и выпуске, турбокомпрессором, развивающим давление до 1,5 бар. Для защиты турбины применена система автоматического охлаждения — электрический насос поддерживает циркуляцию масла через турбину до тех пор, пока его температура не опустится до приемлемой величины. При рабочем объеме 1742 куб.см, двигатель развивает максимальную мощность 240 л.с. при 6000 об/мин и максимальный крутящий момент 350 Нм в диапазоне 2100-4000 об/мин и соответствует экологическому типу Евро 6. Передача крутящего момента к колесам производится посредством 6-ступенчатой роботизированной трансмиссии с двумя сцеплениями собственного производства. Время разгона до 100 км/ч составляет выдающиеся для своего класса 4,5 секунды. Максимальная скорость — 258 км/ч. Средний расход бензина АИ-95 составляет 6,8 л/100 км (расход в городском цикле — 9,8 л/100 км, расход за городом — 5 л/100 км).
Alfa Romeo 4C имеет переднюю независимую пружинную подвеску на двойных поперечных рычагах. Задняя подвеска также независимая, пружинная — со стойками McPherson. Такое конструктивное решение сочетается с задним приводом и распределением 60% массы машины на заднюю ось, что обеспечивает необходимую управляемость и маневренность. Передние тормоза используют 12-дюймовые вентилируемые тормозные диски с четырьмя поршневыми суппортами. Задние тормоза — 11,5-дюймовые, так же вентилируемые. Длина тормозного пути со 100 км/ч составляет 36 метров. Автомобиль оснащен системой выбора режимов с помощью селектора Alfa Romeo D.N.A: All Weather (в неблагоприятных погодных условиях), Natural (для обычной эксплуатации), Dynamic (для активного вождения) и самый экстремальный — Alfa Race, дающий полный контроль над автомобилем. Чтобы включить его, нужно перевести селектор в положение Dynamic и задержать его в нем на несколько секунд, при этом вмешательство электронных систем в работу автомобиля будет сведено к минимуму.
Для изготовления силовой части салона использован однонаправленный углепластик, прочность деталей из которого значительно выше, чем у таких же деталей, но выполненных из традиционных материалов. Алюминиевый сплав, отличающийся легкостью и высокой прочностью, использован для изготовления подрамника двигателя, а также для переднего и заднего элементов каркаса, защищающего салон от ударов. За сиденьями расположена защитная дуга, предохраняющая от деформации при переворачивании автомобиля. В состав стандартного оборудования включены: система управления дифференциалом Alfa Q2 (электронная блокировка дифференциала), системы ABS + EBD, система электронного контроля устойчивости, антипробуксовочная система, система контроля давления в шинах, задний парктроник.
2018 Alfa Romeo 4C Coupe
2018 Alfa Romeo 4C Coupe Review: Half A Supercar?
The luxury sports car category is a very competitive segment, with numerous different takes on what the perfect model should be. However, each manufacturer seems to balance comfort and performance to some degree — but not Alfa Romeo. The 4C is focused almost exclusively on lightness and agility, with little thought spent on the comfort of the creatures housed inside the carbon-fiber tub. The benefit is a car that weighs very little and is visceral and raw. With a six-speed dual-clutch auto doing duty alongside a 1.75-liter turbocharged four-cylinder producing 237 horsepower and 258 lb-ft of torque, in a car that weighs less than 2,500 lbs, this is a proper sports car with astonishing acceleration. The downside to such commitment to handling and performance, is minimal insulation from road noise and bumps, something that the likes of the Porsche Cayman and Lotus Evora have shown concern towards. That said, the 4C comes standard with Italian style and a level of drama that few can imitate — the perfect car for that one day a year when the stars align.
Read in this review:
Exterior Design 10 /10
Performance 9 /10
Fuel Economy 9 /10
Interior & Cargo 6 /10
Infotainment & Features 6 /10
Reliability 7 /10
Safety 8 /10
Value For Money 8 /10
2018 Alfa Romeo 4C Coupe Changes: What's the difference vs 2017 4C Coupe?
Not much has changed over last year's model, with the only updates being minor. The 2018 model now allows for yellow stitching on cars that are Basalt Gray, Black, or White, when previously this was only available if the exterior paint was similarly colored. A carbon-fiber interior fascia package is also now available. Reviewed separately, the Spider (convertible) model is also a new prospect for 2018. Power output stays the same, as do standard equipment features.
Pros and Cons
Unimpeded connection between car and driver making for brilliant driving experience
Stunningly gorgeous bodywork and proportions
Powerful engine and lightweight construction
Supercar performance with daily driver fuel economy
Mini-supercar heritage and style
Exceptionally hard ride
Minimal equipment available
Impractical storage space
Unassisted steering doesn't give great feedback
2018 Alfa Romeo 4C Coupe Trims
4C Coupe Exterior
With proportions reminiscent of classic mid-engined Italian sports cars, wide haunches, and gaping intakes, the 4C cuts an imposing figure in any rearview mirror. LED daytime running lights and taillights feature as standard while xenon headlights are available. Standard wheels are 17-inch items up front with the rears staggered to 18-inches, while a one-size increase for the front and back are available. The integrated spoiler can be had in either body color or carbon fiber.
Dimensions
The curb weight of the 4C Coupe is arguably the most important figure in the car's ability to perform. Constructed with aluminum subframes front and rear, and a carbon fiber monocoque chassis, the Alfa weighs just 2,465 lbs, 39lbs lighter than the spider. The Coupe measures 157 inches in length while its width is 73.5 inches, a measurement amplified by the low height of just 46.6 inches and ground clearance of less than five inches.
Exterior Colors
No additional colors have been added to the 2019 palette, leaving Black, White, Basalt Gray Metallic, Alfa Rosso (red), Rosso Competizione (richer red), Madreperla White, and Giallo Prototipo (yellow) as the colors with which the 4C Coupe will see out the remainder of its life in the US — each particularly striking colors in their own right, suiting the curves and dimensions of the 4C to a tee. Rosso Competizione is especially attractive in the sun, its multi-layered finish changing based on light conditions.
4C Coupe Performance
Only one engine and gearbox configuration is available for the Alfa Romeo 4C, likely because additional powertrain options may have compromised the balance of the car. The mid-mounted 1.75-liter turbocharged four-cylinder in the 4C develops 237 hp and 258 lb-ft — not exactly a huge amount of either measure. But mid-mounted in a lightweight carbon fiber tub that sees the 4C undercut 2,500 lbs, power-to-weight is that of a supercar.
It sends power to the rear wheels only, rather than all corners like the Audi TT, via Alfa's six-speed TCT twin-clutch transmission. The transmission is capable of changing gears in a claimed 130 milliseconds and, if used in conjunction with RACE mode and launch control, those shifts will see the 4C propelled 0-60 mph in 4.1 seconds and on to a sub-13-second quarter-mile. Its top speed is electronically limited to 160 mph, just a few miles-per-hour short of the Lotus Evora, which employs the use of an engine almost twice the capacity. The Porsche 718 Cayman is considerably faster than either even in base trim, knocking on the door of 200 mph; but the focus of the 4C is on the driving experience, not its maximum figures.
Engine and Transmission
The Alfa 4C's four-pot has a specific displacement of 1,750cc and is assisted in performance by a turbocharger which gives a noticeable boost, pushing you back in your seat before fluttering behind your head when you tap off the gas. 237 hp and 258 lb-ft of torque, paired with a curb weight of under 2,500 lbs, resulting in a weight-to-power ratio of 10.4:1 (lbs:hp). This allows the 4C to accelerate hard throughout the rev range, while leaving the line in a hurry is spurred along by a highly effective launch control system, giving thrilling standing starts every time.
Shifts are handled automatically and swiftly, but if you feel like taking matters into your own hands, Race mode engages manual-only shifts via the tactile shift paddles mounted behind the steering wheel.
Some Alfa aficionados may bemoan the lack of a naturally-aspirated engine, particularly something like a sonorous 3.0-liter V6, but for the application, the lightness and breadth of capability that this 1.75-liter engine boasts, is truly astounding and perfectly suited to the original intention of this car — to handle beautifully, turn on a dime, and give explosive acceleration. The only downsides to the setup are an overreliance on boost which results in significant amounts of turbo lag, and the gearbox's tendency to hang onto first gear for far too long, regularly yielding bouts of oversteer when pulling off around a corner. Of course, that's all forgotten the moment the turbo-flutter fills your ears — giving the 4C a definite sense of 80's rally-car.
Handling and Driving Impressions
If a comfortable cruiser is what you're after, stop reading now. The suspension on the 4C is stiff and doesn't absorb much — almost every little imperfection in the road is transmitted to your spine with little buffering in between. As a daily drive, the 4C is not easy to live with, even in Natural mode. In fact, it's impossible to live with, the air conditioning barely cooling the cabin, grains of sand ricocheting off the carbon chassis sounding like gunfire inside, and not enough ground clearance to clear even the lowest of speed bumps. The unassisted steering is heavy and dull, and even when pushing on it lacks feedback — something an unassisted setup should never do. Quite simply put, the 4C is the worst possible incarnation of a car around…
Except… except for the one day a year when the car gods smile upon you, gifting you with the right piece of smooth, twisting tarmac — no traffic, and no hindrances. On that one day a year, you can forget about the horrendous ride quality or the heaps of turbo-lag. You can even forgive the complete and utter lack of sound deadening. Because on that one day, the balance of the mid-engine sports car and lightweight carbon fiber chassis augment human thought, sliding at will and gripping when you need it. The turbo flutter and exhaust flatulence from every upshift of the dual-clutch transmission spur you on, and the 4C Coupe becomes one of the most emotive driving experiences you'll ever have. On every other day of the year, you'll hate your decision to drive the 4C, but after that one, you'll never look at another driving experience the same way again.
4C Coupe Gas Mileage
The 4C's small-capacity 1.75-liter turbocharged engine pays dividends here, returning 24/34/28 mpg on the EPA's city/highway/combined cycles — not bad for a dual-clutch, rear-wheel-drive sports car. By contrast, the Lotus Evora and Porsche Cayman manage 17/24/20 mpg and 22/29/25 mpg respectively for their base models equipped with automatic gearboxes. The 4C's relatively small 10.5-gallon gas tank gives it an estimated average range of 262.5 miles per fillup.
Alfa Romeo 4C review, specs and video
The Alfa Romeo 4C was one of the most eagerly-awaited sports cars. Does it compete dynamically with Porsche and Lotus?
Beautiful looks, well balanced
Could be more extrovert to drive
What is it?
The Alfa Romeo 4C. The mid-engine, rear-drive sports car was unarguably one of the most eagerly awaited cars of 2013. It's Alfa's gamble of reinvention with a low-volume, high visibility sports car to create a halo around the brand, and provide a springboard from which to launch a new range of fresh mainstream models. It starts at £45,000, sticking it halfway between a Porsche Cayman and a Lotus Exige S. See it compete in our 2013 Car of the Year contest here.
Technical highlights?
The engine — Alfa's familiar turbocharged, direct-injection 1742cc four-cylinder petrol motor — is some 22kg lighter than that found in the Giulietta, thanks to a new cast aluminium block in place of the regular cast iron item. Tuned to deliver a peak of 237bhp at 6000rpm and a fat 258lb ft of torque between 2200 and 4250rpm, it trades top-end effervescence for low and mid-range accessibility.
With the optional Race Pack's exhaust fitted it's surprisingly noisy, emitting a fruity fwaarp that's two parts Fiat 500 Abarth EsseEsse and one part Ferrari 458 Italia at less than stratospheric revs. It's mated to Alfa's six-speed TCT dual-clutch paddleshift transmission.
More reviews for 4C coupe
Group tests
Alfa Romeo 4C Spider v Porsche Boxster Spyder — Spider decider
Alfa Romeo 4C Spider v Porsche Boxster Spyder — Spider decider
In-depth reviews
Alfa Romeo 4C Spider review — better than the coupe, but Alfa's sportster is still flawed
Reviews
Alfa Romeo 4C Coupe and Spider review — it may look like a miniature supercar, but does it drive like one?
Alfa Romeo 4C Coupe and Spider review — it may look like a miniature supercar, but does it drive like one?
With the aid of Launch Control the Alfa 4C will punch from 0-60 in less than 4.5sec and hit a 160mph top speed. That's serious performance from a sub-2-litre, sub-£50k sports car.
The Alfa 4C's headline technology, though, is its carbonfibre tub, which not only adds lightness (it weighs a mere 52kg, contributing to a dry 895kg kerb weight) but also a sense of premium, hammered home when the door opens to reveal a bare gloss carbon-weave finish on the sills. Full Alfa 4C tech story here.
What's it like to drive?
On looks alone I think we're all agreed the 4C is a winner – you could park it up next to pretty much anything you care to name and it would hold its own. Swing open the door, drop into the interior and you can marvel at the wide weave of the carbon tub. It's very reminiscent of getting into an early Elise (with the roof on), except all the naked aluminium has been replaced with naked carbonfibre. The controls are a mixed bag: the pedals look and feel great but the steering wheel is an awkward chunky thing and the paddles are flexible and cheap. However, even though it's obvious where money has been saved, it still feels like a very special car… until you start the engine.
The 1742cc turbocharged four-cylinder just sounds out of place in the Alfa. It's not that a four-cylinder is a bad idea per se, it's just that when you first twist the key, this one sounds like it's been lifted from a cheap '80s hatchback. With 237bhp, the engine is at least effective and imbues the little Alfa with decent, if noticeably surging turbocharged pace in a straight line. Immersed in the process of threading the car down the road, you don't really notice what sound it's making, so it's less of a problem. It's undeniably characterful and effective, albeit in a rather hot hatchy manner that's at odds with the 4C's baby exotic brief and obvious class.
«It has a presence thats normally reserved for full-scale supercars.» -Dan Prosser evo 209
The structure — famously made from carbonfibre — feels supremely rigid, which in turn allows the suspension the freedom to work unimpeded by unwanted flex. Consequently the damping has a wonderful feeling of control, pliancy and depth, rounding things off beautifully, but maintaining a feeling of tautness that's essential in a car with such lofty sporting aspirations.
The 4C is swift and sure-footed, its lusty little engine punching us down the straights and snargling with every upshift. The healthy reserves of mid-range torque, coupled to the TCT transmission make for near-seamless surges of acceleration that soon see you travelling at three-figure speeds between the corners. The Brembo brakes — 305mm front and 292mm rear — are extremely powerful, with a lovely firm pedal and impressive, progressive response from the moment your foot covers the pedal.
And the 4C certainly has some pace through the corners: the alacrity of the direction changes make it obvious how light and stiff it is, while the levels of lateral grip it generates are huge. Sitting low in the tub, you feel right at the centre of the action, and as you lean ever harder onto its tyres you just start wishing the seats had some more support to hold you and your internal organs in place.
The only slip you'll find in the dry is at the front, where the nose will just start to push wide. Even if you lift sharply at this point, there's just the subtlest movement from its beautifully sculpted hips as the weight transfers rearwards, the light little engine not having enough mass to overcome the grip of the 20in rear wheels.
A lack of on-centre feel from its unassisted steering is the 4C's main area of weakness. Once committed to a corner you find the balance is resolutely neutral, with an eventual fade into the mildest settling understeer. The 4C is more racecar-like than a Cayman in its focus on grip, stability and neutrality. Frustratingly that doesn't quite translate into on-road dynamics that are as engaging or entertaining as they could be given a little more connection and freedom of expression.
When judged as a whole there's no doubt the 4C is a quality item, though. Beautiful, and beautifully put together, it feels worth every penny of its £45,000 asking price. I suspect Alfa Romeo will sell all 3500 4Cs it hope to build annually based solely on its styling.
How does it compare?
It will be a tough fight for the Alfa 4C against some very talented foes. It sits between the £39,694, 271bhp Porsche Cayman and £48,783, 321bhp Porsche Cayman S (the latter one of the very best cars we've driven in 2013) while our joint Car of the Year 2012, the 345bhp Lotus Exige S V6, costs £53,850 and is more focused still than the 4C.
Anything else I need to know?
An optional Race Pack, which consists of larger wheels (18in front, 19in rear), stickier Pirelli P Zero tyres, a sports exhaust, thicker front anti-roll bar and another at the rear (as standard it comes without a rear anti-roll bar) and re-rated springs and dampers. This seems good value at £3000 and will surely prove popular, we weren't given a standard car as context by which to judge the upgrades.
Perhaps the most talked about feature of the production 4C — its headlight clusters — have caused some concern for many of the original concept's appreciators. Since the 4C Spider was confirmed at the Geneva motor show, Alfa Romeo has agreed that it will offer more conventional light clusters for the 4C in future.